Jamie balances a busy life as one of the UK's most versatile performers combining his life on stage with his life behind the microphone, presenting
Classics Unwrapped
for BBC Radio Scotland and BBC Scottish Symphony Orchestra concerts on BBC Radio 3.
Jamie has appeared with some of the world's top Baroque, Chamber and Symphony Orchestras. The Halle, Royal Scottish National Orchestra, Scottish Chamber Orchestra, Orchestra of the Age of Enlightenment, King's Consort and English Concert, St Louis and Houston Symphony Orchestras.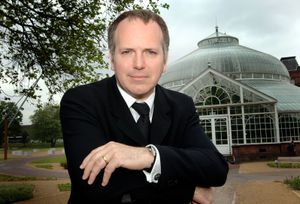 Since becoming the voice of Classical Music on BBC Scotland Jamie has enjoyed a unique partnership with the BBC Scottish Symphony Orchestra, presenting and singing at numerous events including Proms in the Park, the opening of the City Halls in Glasgow and the 75th Anniversary of the orchestra.

As a recitalist he has collaborated with Malcolm Martineau, Graham Johnson Roger Vignoles, Ian Burnside and Julius Drake.
Jamie has been the voice of Classical Music for BBC Scotland for 10 years now, presenting Grace Notes and Classics Unwrapped. In that time he has interviewed some of the biggest names in the music world such as Elmer Bernstein, Maxim Vengarov, SIr James Galway, Kenneth McKellar, Rene Fleming and Bryn Terfel.

He now presents regularly for  BBC Radio 3.

From radio he moved into TV becoming the face for BBC Scotland's Proms in the Park.

His close partnership with the BBC Scottish Symphony Orchestra has seen him take the role of 'front man' singing and presenting the annual Christmas Classics and Movies Concerts.
Jamie has toured extensively in North and Central America, Australia and New Zealand with Caledon - Scotland's Three Tenor group.
Their DVD, On a Beautiful Scottish Evening, was broadcast on American television in 2005, and their debut solo album, Caledon - The Power and the Passion, was released on REL Records in October 2005.

As one of Caledon Jamie has appeared in Berlin for over 250 shows in Tipi das Zelt with three productions, Caledon-Die Schottische Tenoren, Let's have a Party and Caledon's Christmas Show, Let it Snow!